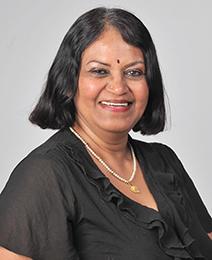 Prof Sarala Krishnamurthy
Professor
PG. Dip:Teaching of Engl.
B.Sc., M.A. Engl.
PhD Stylistics & African Lit. (Bangalore)
OET, (Institute of London)
Research focus areas/interests
Post-colonial Literature, Genocide Studies, Gender Studies, Indigenous  Language and Culture: Revitalization of IndIgenous Culture and Languages, Stylistics.
Projects
Principal Investigator and Project leader for 3 projects : P3ICL project(Protect, preserve and promote Indigenous Culture and Language (EU funded), HGSN(Herero Genocide Survivor Narratives) (Funded by Basler Afrika, Bibliographien, Switzerland), International Corpus of English: Namibia (Funded by NCRST, suspended and waiting for the funding), SPEN project (Spoken English of Namibia) (Funded by IRPC, NUST).
Principal Investigator, Nama Genocide Survivor Narratives (2022-2023) (Funding Basler Afrika).
Member, Gathering: Towards a Transdisciplinary Approach to Spaces, Traces, and Practices of Memorialisation in Namibia and Germany (2023-2024) (Funding DAAD).  Led by Prof Henriette Gunkel, University of Bochum, Hamburg.
Publications
Three books and more than 50 international peer-reviewed publications in journals, chapters in books, etc.
Research supervision
9 PhDs, 12 MPhils, 8 Masters, 20 Honours.
Teaching
World Literature Written in English (WLWE 911S), Advanced Literary and Critical Theory (ALC 921S), Popular Literature (PLT 911S) (All courses offered at Master's level in the Masters of English and Applied Linguistics programme, Supervision of Writing of Proposals and  Thesis at Master's level.
Community Engagement
Serve in the Editorial Boards of 2 International journals based in UK and USA, Chairperson of the Literature Committee of the National Arts Council in the Ministry of Education, Member of the Adjudication Panel for Namibian drama (National Theatre of Namibia for 18 years), Member of the Evaluation panel for disbursement of funding for the Arts( National Arts Council).